Star Fish, Inc. is a tax exempt, 501(c)(3) non-profit corporation in Plainfield, NJ
Your donations are tax deductible as permitted by the IRS Code
Holiday Magic in Plainfield
December 21, 2012
Santa's elves met up at WalMart this week and, as a result, hundreds of Plainfield children received early Christmas presents.
Star Fish Food Pantry volunteers packed 150 Christmas dinner bags on Friday, December 21 for families in need in Plainfield. Along with the Christmas ham and fixings, the group gave the children toys of all kinds to help brighten their holiday.
Edna Shanok and Lynda Stanbach, co-administrators for the Star Fish Food Pantry, don their elfish outfits each year and shop for toys for children. "We try to make the most out of the available funds," said Ms. Stanbach, "but sometimes there just doesn't seem to be enough money to meet the need."
Checking the toy aisle in WalMart last week, there was a lot of comparing prices, looking for the best bargains, and, sometimes, settling on lesser cost items just to make the money stretch a little farther. "We pray each time we go shopping for toys at Christmas," said Ms. Stanbach. "We have faith that God will provide, and we have never been disappointed."
While checking out footballs on sale, the Star Fish elves met two other elves with a shopping cart filled with toys. Comparing items with the other elves revealed that they were employees of VIP Honda in North Plainfield.
"The folks at VIP had donated gifts at the dealership and money to buy more gifts for children in the area, but hadn't yet decided where to donate them," said Ms. Shanok. "We told them about Star Fish and the hundreds of children who needed presents, and both of our problems were solved!"
The Star Fish volunteers picked up all of the presents from VIP Honda on Friday and brought them to Covenant United Methodist Church basement, where other elves in Santa's workshop were busy preparing toys to add to the Christmas dinner bags.
"Miracles happen when good people act to benefit others," said Ms. Stanbach. "Meeting the people from VIP led to one miracle, and then one of our volunteers arrived with a trunk full of toys from St. Helen's Church in Westfield. We suddenly had enough toys for every child, when just the day before we were worried about how to meet the need. We are truly blessed."
While food packing was going on, other volunteers sorted through the available toys to find the right gifts for the children in each family. "When the family identified the ages and sex of the children, distributing those gifts was easy," said one of the elves. "When the bag only listed the children's ages, it was a little more difficult. We just used generic gifts that could be suitable for either boys or girls."
Volunteers at Star Fish packed the dinner bags with canned vegetables, macaroni and cheese, three or five pound canned hams, yams, pineapple, milk, butter, and tea bags. Topping off the dinners were homemade cakes, specially decorated for Christmas. The cakes were prepared by Girl Scouts from New Providence and by Marie Pase, a Star Fish volunteer, and her neighbors.
Among the people donating food this year were two Rotary Clubs. Twelve cases of fresh clementines, three cases of canned tuna, and a case of hams were delivered by Byron Miller from the Rotary Club of Westfield. The local Rotary Club of Plainfield-North Plainfield donated twelve dinners to supplement those packed by the volunteers on Friday. The club donates twelve dinners to Star Fish for the Thanksgiving, Christmas and Easter holidays each year.
Star Fish Food Pantry has served the people of Plainfield since 1971. Donations and volunteers are always welcome. More information is available on the Contact Us page, and additional photos are on the Photos page.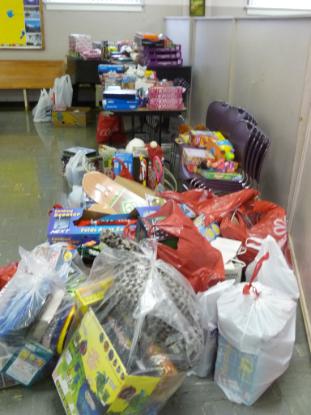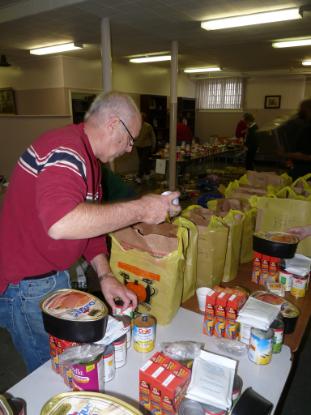 Toys await the elves at Star Fish. Many of these toys were donated by VIP Honda in North Plainfield.
One of the volunteers packs the grocery bags for one family's Christmas dinner.