LOOKING FOR FOOD? Contact one of our PARTNER AGENCIES ~ we do not distribute food directly to clients.
Star Fish, Inc. is a tax exempt, 501(c)(3) non-profit corporation in Plainfield, NJ
Your donations are tax deductible as permitted by the IRS Code.

Love your neighbor as yourself...Serving our neighbors in Plainfield since 1971.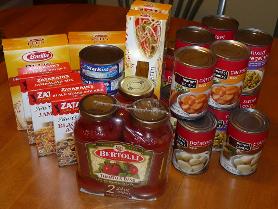 Our Mission : To provide emergency food assistance to families of Plainfield who find themselves in need.
We were founded through the efforts of the Association of Religious Organizations, an ecumenical clergy group. Our name is a combination of the Judaic Star of David and the Christian fish symbol. Founders were Eileen Cunniff, Mary Nischwitz, Rev. Herbert Saunders, Ann Hale, and Julia B. Purnell.
See our Contact Us page for email or to donate!
easter dinner packing EVENT Success!
Twenty-one of our volunteers came down to the Food Pantry to package Easter dinners for 160 families on Thursday, March 29. The busy beavers finished packaging those dinners by 11:00 a.m.!
Our Partner Agencies picked up the meals, with chickens or turkeys (depending on size of family), vegetables, potato mix, stuffing, mac n cheese, rolls, margarine, gravy, cranberry sauce, fruit - enough for a complete holiday dinner. This is one of the three major holiday meals that we present - Thanksgiving, Christmas, and Easter.
But we are more than just holiday meal packers. We have volunteers at the Food Pantry three mornings every week to prepare emergency food assistance for delivery to our Partner Agencies. If you'd like to help, click here to send us an email for more information and details. Or make a stop at your favorite grocery and pick up some of the items on our "Shopping List" page. We always need everything. Or you can go to our "Donate" page and make a secure donation through PayPal. It's that easy to help a family in need.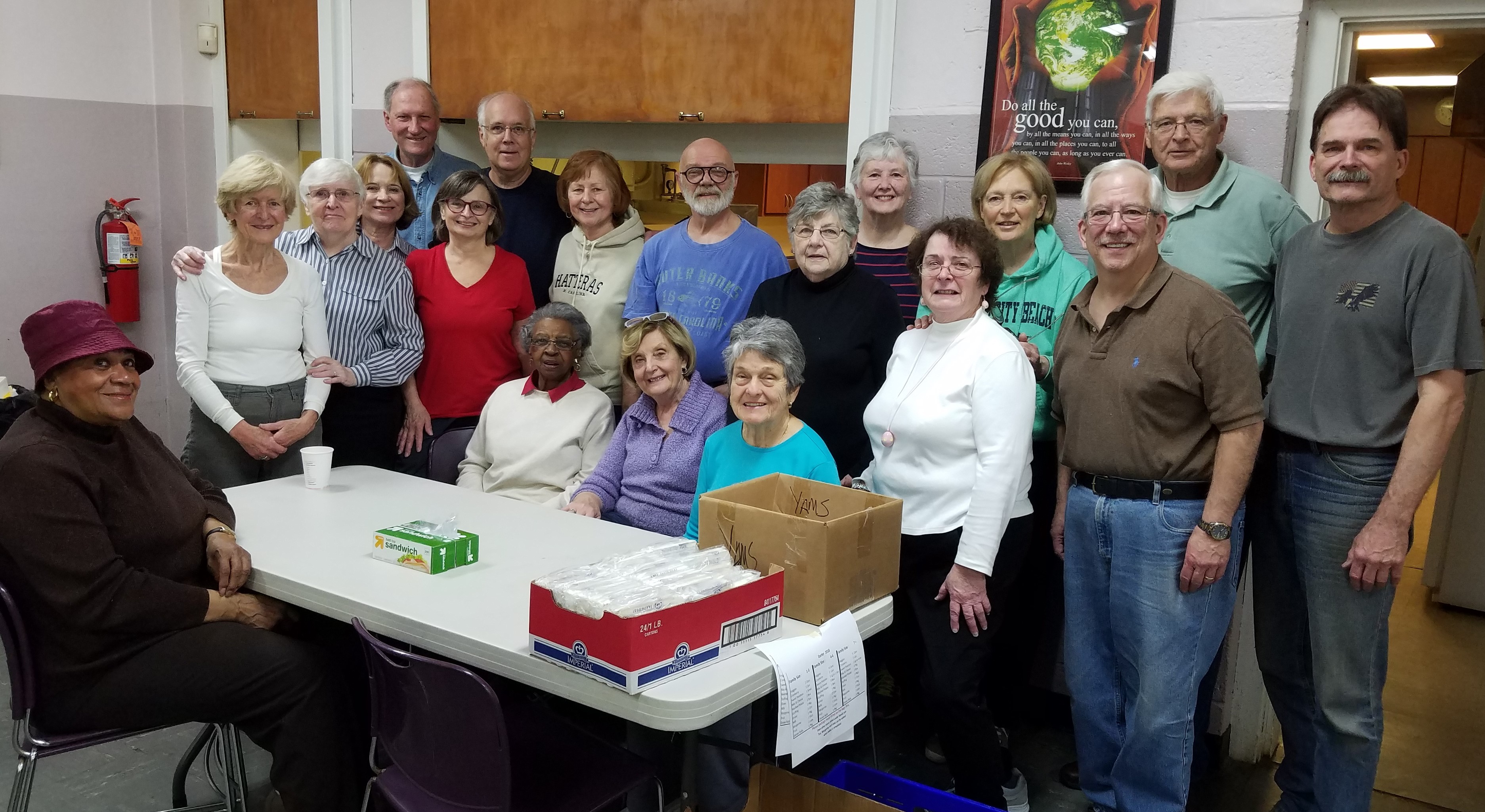 Seated - Frances, Minnie, Cathy, Lois. Standing: Brenda, Nancy, Patty, Hugh, Marie, Rich, Ellen, Roger, Noreen, Janet, Dolores, Lori, Joe, Jim, and Bob. Photographer: Michael. Not pictured: Laura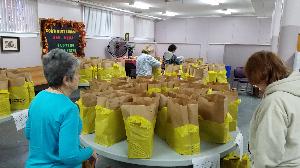 NEW driveR ON BOARD
We have volunteers who come down on Tuesday, Thursday, and Friday mornings to pack up groceries for families in need.
We were in need of drivers to help get that food to the Partner Agencies on two of our delivery days.
Two of our more recent volunteers have stepped up and taken on the responsibility. Thanks to Rich and Bob for filling the need.
More volunteers are always welcome! Use our contact us page.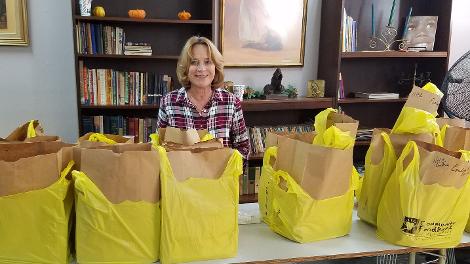 Food is packed in brown bags with plastic for easy carrying! And we serve it with a smile.
WOODLAND SCHOOL kids donated again!!
The students and their parents have come through for our Food Pantry AGAIN!! Just a few short weeks after their earlier donation (see below), we received a call from Mrs. Christina Beekman Brink, kindergarten teacher and Service Club adviser. She informed us that they had a food and cash donation at their "Woodland's Got Talent Bake Sale" and wanted to donate it to Star Fish. We collected enough food for a number of families and $300 to help us buy things that we need.
Thank you again - Woodland School ROCKS!!
Woodland School in Warren 4th grade collects food FOR STARFISH!!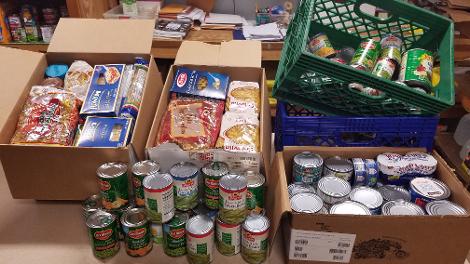 The students in the fourth grade at Woodland School in Warren took on a service project and collected the food pictured here and donated it to our pantry.
It all started with the school's 2016-2017goal of service...
Go to our News and Updates page for the full story.
VIP Honda donates toys...
The employees and owner of VIP Honda in North Plainfield have turned into elves for Christmas, buying toys for children in Plainfield.
It all started with VIP's Thanksgiving luncheon for employees...
Go to our News and Updates page for the full story.

GIVING THANKS...
Shelves at the food pantry are full once again, thanks to the generous donations of our friends. Both individuals and groups have pulled together to help us re-stock our pantry at Thanksgiving time. Donations from Faith Lutheran Church in New Providence topped our list of donors that included Union Catholic High School and Immaculate Heart of Mary Church in Scotch Plains, as well as College Achieve Charter School in Plainfield/North Plainfield. Read more about 2016 donors on our News and Updates page.
Regardless of the amount of food recently donated, please know that all of it goes out the door almost as fast as it comes in to us. We can always use your donations of food or funds to help us build up our supplies and enhance our offerings.
Our Christmas Holiday Dinner Project is coming up soon. Volunteer by going to our Contact Us or Donate page.
If you need help yourself, contact one of our Partner Agencies and they will help get the ball rolling.
If you do not need help, consider donating food to others in need. See our How to donate page for more information on how to donate.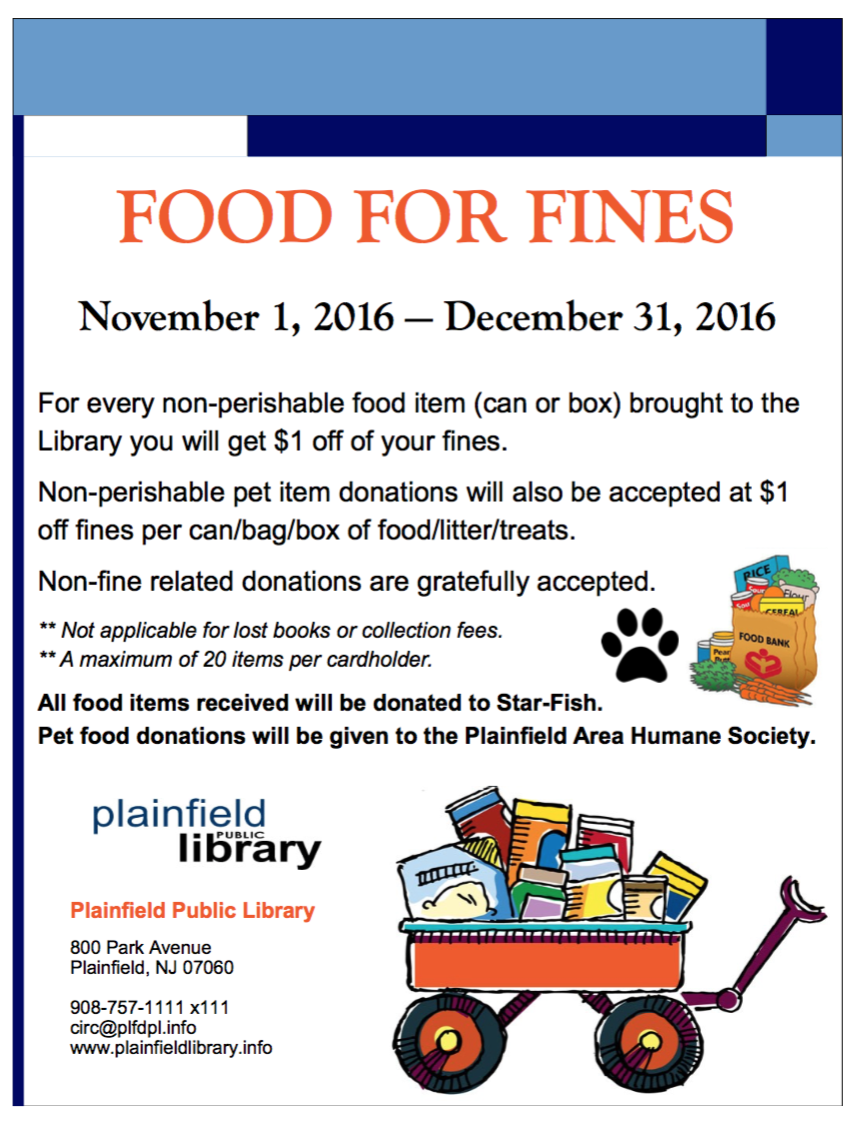 Giving Garden at Warren Farm Arboretum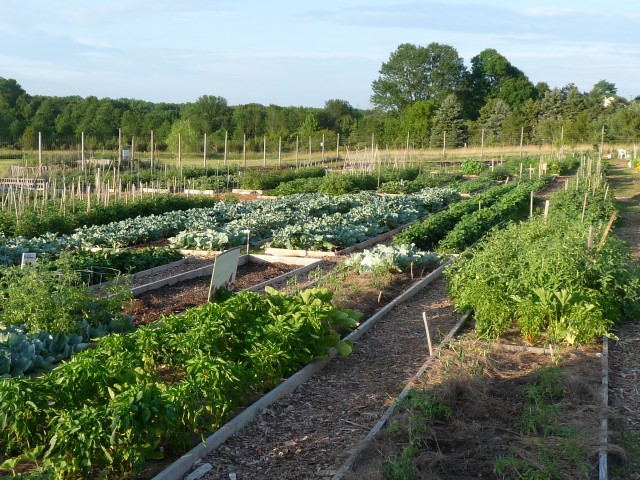 Who doesn't like fresh vegetables from a local farm or garden? We are blessed by the support of our friends at the Rotary Club of Plainfield-North Plainfield who have partnered with the Giving Garden at Wagner Farm Arboretum to supply us with fresh vegetables throughout the harvest season.
We have given our clients beets, green beans, squash, zucchini, tomatoes, peppers, ochra, potatoes...all of this grown locally at the Giving Garden by volunteers, including our Rotary friends. That club plants two plots of vegetables each year and donates their harvest to our food pantry.
Giving Garden volunteers also travel to the Rutgers Research Snyder Farm in Pittstown to pick up donations of fresh corn, tomatoes, squash, peppers, and many other vegetables grown there, as well as boxes and boxes of apples from their orchards every Fall. These weekly trips generate large boxes of fresh vegetables and fruit for our clients through November, even giving us pumpkins! We are truly blessed!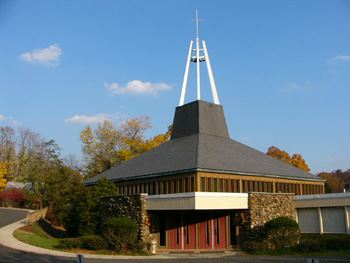 Wilson memorial
We sing the praises of our friends at Wilson Memorial Church in Watchung. The congregation supports our food pantry with their time, talents and treasure. Longtime supporters, they recently donated two brand new freezers to replace old, non-working space-takers. Now we can better store our frozen breads and meats and dispense them as needed.
Thank you, Wilson Memorial. You are our angels.
Rotary Club supports
us
Thank you Rotary Club of Plainfield-North Plainfield!!
Pictured at rightare some of the groceries delivered by our long-time Rota
rian friends at the Rotary Club of Plainfield-North Plainfield.
Every first Wednesday of the month, club members are asked to bring in food donations for the food pantry. Some or all the things that are donated are on our Shopping List. The Rotary Club also helps us every holiday. Each member of the club buys enough food for the members to prepare one holiday dinner per member. All we add is the meat of the day (turkey or ham or chicken) and the dessert cakes (baked by our Girl Scouts and our block association friends). A club member also delivers fresh vegetables and fruit from the Giving Garden (story below) throughout the growing season
MT. ST. MARY STUDENTS' SUPER CEREAL BOWL PROJECT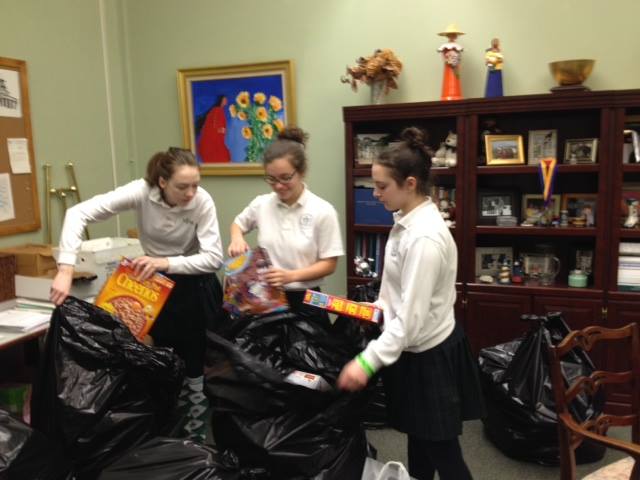 The students at Mt. St. Mary School in Watchung help us each year by having a friendly competition leading up to Super Bowl Sunday that they call "Super Cereal Bowl." Each homeroom is asked to bring in boxes of cereal to benefit our food pantry, with the special Super Cereal Bowl trophy (yes, a real trophy!) awarded to the class that brings in the most boxes. The following message was posted on the MSM Facebook page recently.
"Thanks to all those who supported this year's Super Cereal Bowl, sponsored by the HOPE Club and Peer Ministry. Amid winter break and several snow days, they collected 400 boxes to benefit the Star Fish Food Pantry. Congratulations to Homeroom 10B on donating 47 boxes, the most brought in by a single homeroom this year."
COMMUNITY FOOD BANK OF NJ A GREAT FOODSUPPLIER
We have partnered with the Community Food Bank in Hillside to help us meet the needs of our clients and, at the same time, stretch our limited funds. Because the Food Bank receives food in bulk from grocery chains and others, they provide the food at a significantly lower cost than we could otherwise enjoy. While we always used healthier ground meat and lower-fat hot dogs, we are now able to offer more variety meats, depending on what is available at the Community Food Bank. For example, the Food Bank had frozen chicken parts available when we picked up our recent order. What a treat to be able to give this food out to our families in need! See our News and Updates page for more about this new partnership.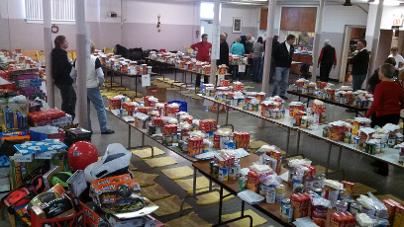 Christmas Dinners
What a great day! Every year, approximately 25 people help pack dinner bags for 160 families. We also give out donated toys and other gifts for the children of these families.
Dinners of ham, yams, corn, green beans, mac and cheese, pineapple, tea and cake are packaged and ready to go by 11:00 a.m.

"Thank you" to all of the volunteers, both those who've been there for years and the new people who come out for the first time. We appreciate all of you for your help and generosity.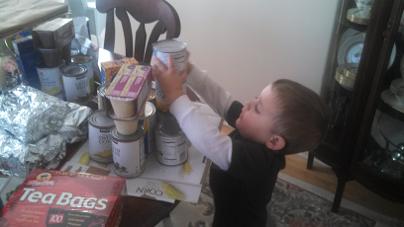 who helps?
Our youngest helper, Jonah, adds a can of corn to a family's Christmas dinner order before bagging it for delivery.

Volunteers pack 160 dinners for Thanksgiving, Christmas, and Easter every year.
Learn more here.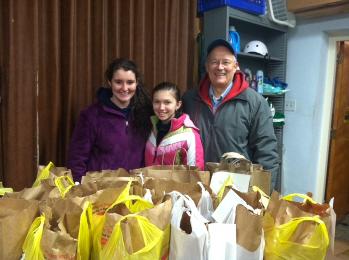 Genevieve Nitzsche, Marissa Berrios, and Michael Townley pose behind the nineteen dinner bags put together by AOLP students.
Academy of our lady of peace
Students at the Academy of Our Lady of Peace in New Providence donated nineteen Thanksgiving dinners and enough money for twelve turkeys to our Food Pantry this year.
Genevieve Nitzsche, a student of the school and a granddaughter of the late Eileen Cunniff, one of the founders of the Food Pantry, spearheaded the event. Genevieve enlisted the help of the Student Council to sponsor a food drive. Each grade, from pre-K to eighth, was given the list of food items that we give out on Thanksgiving and was asked to put together at least one dinner.
In addition to the food drive, the Student Council also sponsored a dress down day that raised the money for the twelve turkeys. After the food drive concluded, the children had brought in enough of the needed items to make up nineteen dinners, which were delivered to Star Fish on November 25 by Genevieve Nitzsche and Marissa Berrios.
"This donation was especially meaningful, coming through the efforts of Eileen's granddaughter," said Michael Townley, longtime Star Fish volunteer. "A number of us still involved in Star Fish started out because Eileen asked us to help. Her memory lives on in the good works being done for others."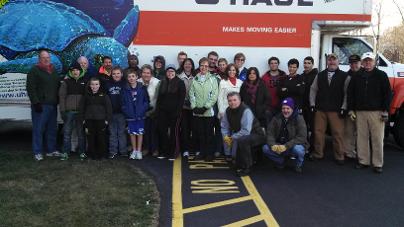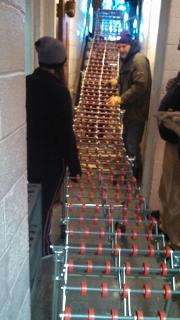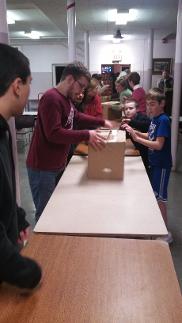 FAITH LUTHERAN CHURCH
Members of Faith Lutheran Church in New Providence pose after unloading this truck that was packed with food for our Pantry.
This faith community has helped us for over 25 years, bringing canned goods, pasta, sauce, peanut butter, jelly, tuna fish, mac and cheese, and much more to the Pantry on the Saturday after Thanksgiving.
Not only do they collect the food, but they also box it separately, making it easier to store and easier to handle.
The group arrives with their own roller ramp that they set up from the truck down into the basement. Workers on the truck carry the boxes to the slide where others guide them to tables. Other members, young and old, carry the pasta to one location, the canned goods to another, and the cereal to a third.
Many hands make light work, and within an hour, the entire task is completed.
We are so blessed to have these friends support our efforts.
THANK YOU UTILITY WORKERS!!
We are also grateful for the generosity of women and men of Local 423 Utility Workers Union of America. Steve Mangione, representing the Union, contacted us to announce that the Local had selected Star Fish to receive a $500 donation for the Christmas 2013 and our Christmas 2015 holiday projects.
The Local represents the women and men who work for American Water Company in our area. They made their decision, in part, on the good works found on our website!